Yay alliterating blog titles! OK, OK, not a big post here, just passing on some neat news and a bit of a mystery for the professionals out there. The folks at the Medieval and Earlier Manuscripts blog have posted about the Macclesfield Alphabet book, recently acquired by the British Library, containing patterns for letters and illumination. The full manuscript can be viewed at the British Library's website. The mystery is this page, with an image of a tree and an "R-B" emblem: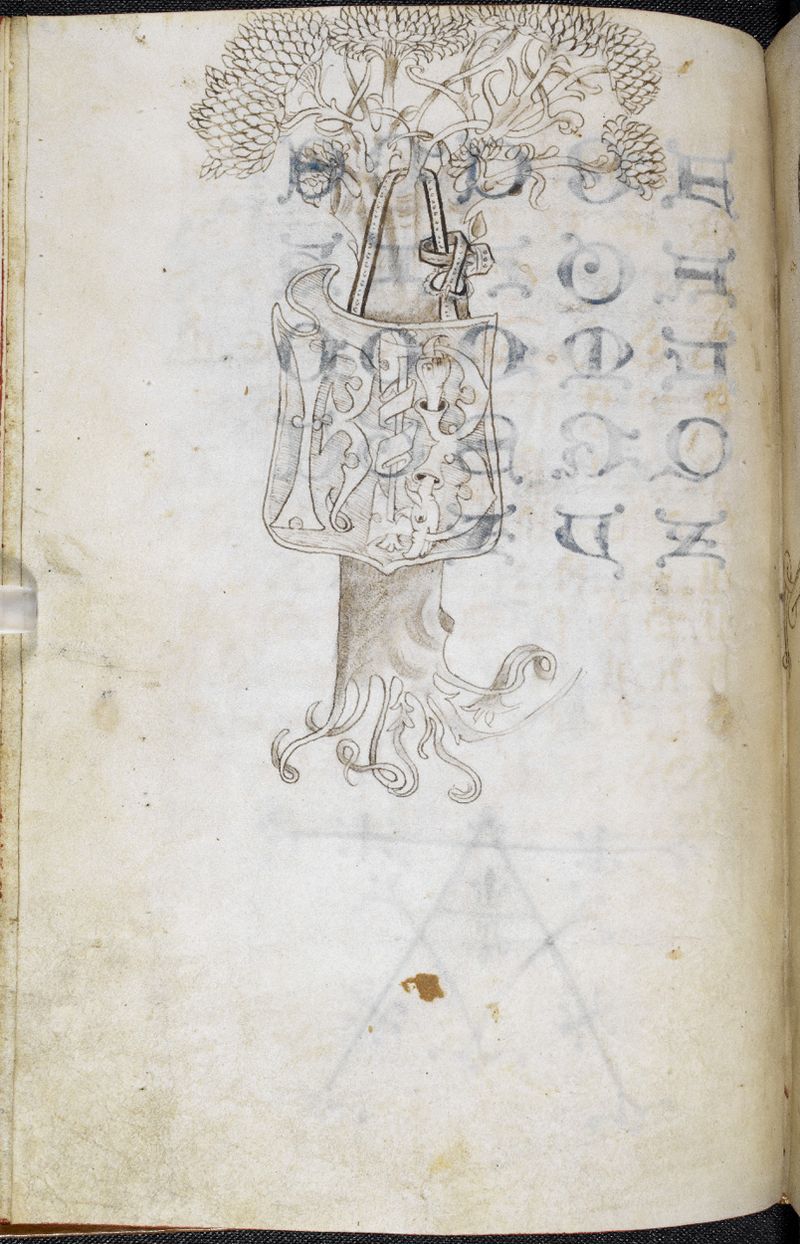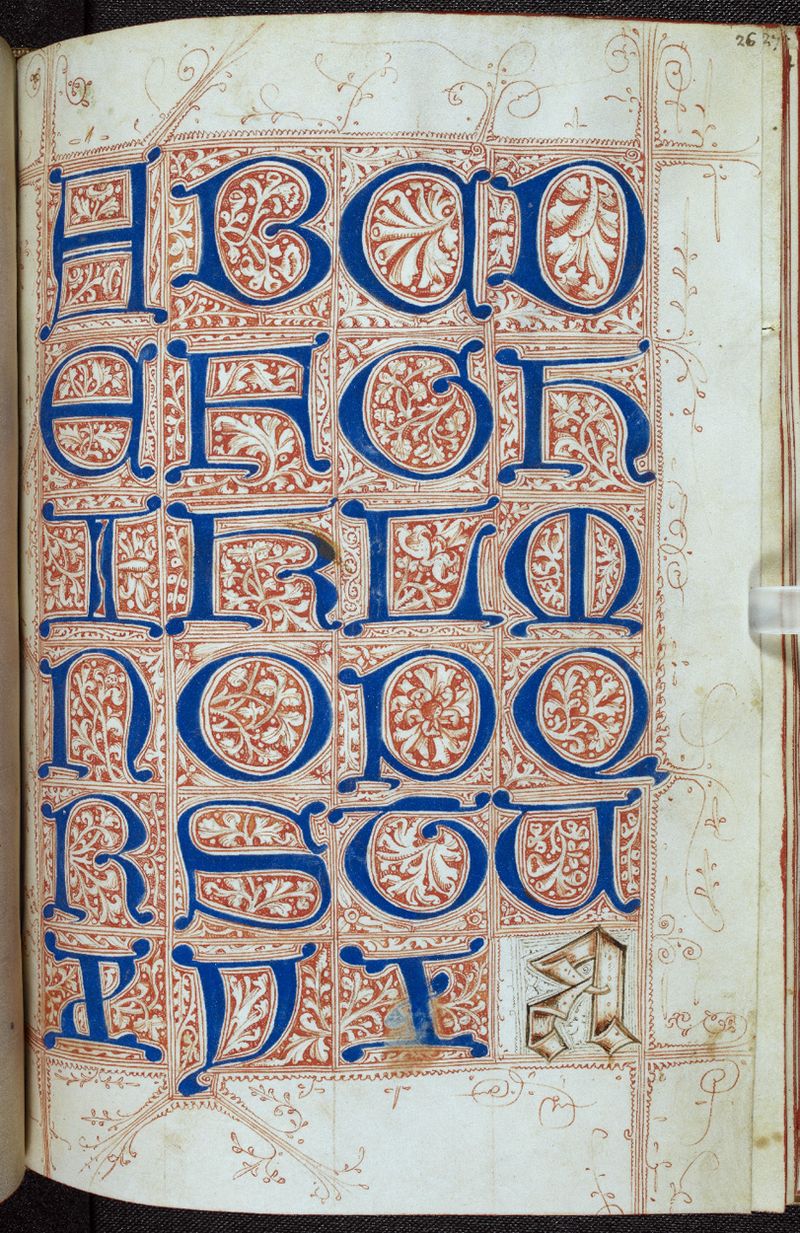 The meaning of the picture and the "R-B" is unknown, and they are hoping someone out there will have a guess. Neat, huh? We'll see if they figure it out. Could be one of those mysteries that lingers for a long time, or perhaps it will be solved right away, now that the manuscript has come to light.The discovery of a new manuscript isn't all that common, at least not when it comes to the texts I study–although a friend of mine did have her masters thesis screwed up when a new fragment of a Heliand manuscript showed up…
I'm afraid this sort of paleography/codicology is not my speciality, although I think it is both fascinating and essential to our work with medieval texts (although I did attend the Arnamagnaean Institute's paleography summer seminar two years in a row, and got to work with the manuscripts and their facsimiles a bit while I was writing my dissertation–would like to do more of that).The nitty-gritty sort of work that gets done with the books themselves is pretty important both to our understanding of the culture in which they came to be, and to our interpretations of the manuscripts themselves. Speaking of common models for the art in manuscripts, in the course of my dissertation research I found out that the illustration of Gylfi interviewing High, Just as High, and Third in the Uppsala MS of Prose Edda is actually based on an illustration from one of the king's sagas (or vice-versa–I'm afraid I don't remember which is the case, or which MS the other illustration is found in–it was a few years back, and I didn't do anything with this fact in my dissertation).
Just a little detail, but fun. The fact of the illustration is itself interesting as the other medieval manuscripts of both Eddas are quite plain (and Uppsala Eddan isn't much better). It is a stark contrast with the richly illuminated Flateyarbók (a history of the Norwegian Kings, and meant for a king) or religious texts–not that you find oodles of rich decoration through all the other medieval Icelandic manuscripts (not the ones I typically find a reason to look at, at any rate), but I would imagine that one would be less inclined to  give the same exalted treatment to the "lies" (as Snorri presents them) of pagan mythology as was given to the more elevated topics of the Norwegian throne and Sacred (Christian) texts.
Oh, and if you aren't sure what the Eddas are, check out my last post (some of my over-simplified metrical explanations possibly to be expanded on at some point… we'll see).